Pumpkin Spice Pecan Truffles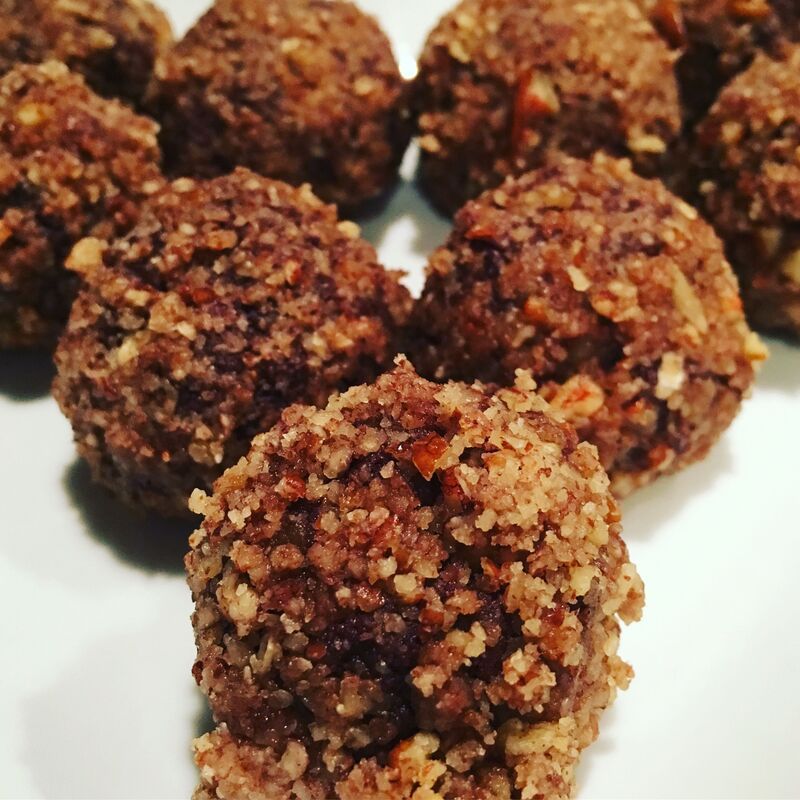 Pumpkin Spice Pecan Truffles
These little treats are simply divine, and what more could you want at either Thanksgiving or Christmas, than the flavours of pumpkin spice and pecans together?
These whip up super quickly and disappear almost as fast, so consider doubling your batch!
INGREDIENTS:
1 cup pumpkin purée
1/3 cup melted coconut butter
1/4 cup coconut sugar
5 tbsp. unsweetened cocoa powder
1 tsp pure vanilla extract
2 tsp pumpkin pie spice
1 cup pecan halves
Pinch of salt
DIRECTIONS:
Melt coconut butter for 30 seconds to one minute in microwave. Mix with knife and then re-measure.
Combine with pumpkin purée, coconut sugar, cocoa, vanilla and spices. Refrigerate for 30 minutes.
Finely chop pecans (I pulse mine in the food processor); transfer to plate or shallow bowl.
After the 30 minutes have passsed, form each ball by using 1 tbsp of the mixture and rolling it in your hands.
Roll in pecans to coat. Repeat until all the truffle mixture is used.
Refrigerate and enjoy at your leisure. Made to share!