Healthier Christmas Nut Butter Balls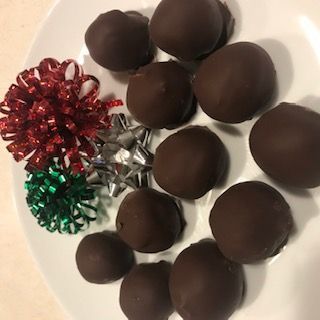 Healthier Christmas Nut Butter Balls
If your Christmas holidays are anything like mine, they are packed full of craft fairs, fundraisers, shopping, creating, wrapping, writing, caroling, and yes, baking. Because there's so much going on, I can't spend all day in the kitchen, so I like to choose quick recipes that have few ingredients. These shiny little Christmas balls are pleasing on the tongue and are sure to impress the guests!
INGREDIENTS:
4-5 Medjool dates
2 Tbsp gluten-free oats
½ cup natural nut butter (I used Peanut butter this time)
½ cup chocolate chips (I used vegan)
½ Tbsp coconut oil
DIRECTIONS:
Process dates in a food processor until finely chopped and form a sticky ball.
Add in oats and pulse until combined.
Add nut butter of choice and process til mixed well.
If it seems too oily, add a few more oats and mix again.
Scoop dough out by the tablespoon, roll into balls and place on parchment paper.
Freeze for a few hours (or overnight) as this makes it easier to roll them in chocolate.
Before taking balls out of freezer, combine chocolate chips and coconut oil and melt either in a double boiler or in the microwave (if using microwave, stir every 30 seconds).
Dip balls into warm chocolate mixture until completely covered and place back in the freezer until hard.
Store either in fridge or freezer until ready to enjoy. Merry Christmas Everyone!