Avocado Chocolate Chip Cookies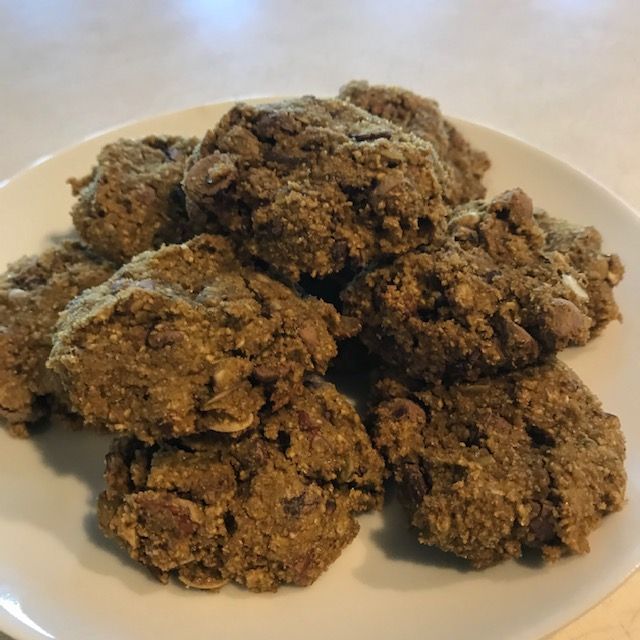 AVOCADO CHOCOLATE CHIP COOKIES
Sometimes I need a treat and treats are rarely HEALTHY. This chocolate chip cookie is a healthier version, given there is no butter or oil, but don't kid yourself– these are still cookies. Eat in moderation!
Makes 24 cookies
INGREDIENTS:
½ cup avocado (appox. 1 avocado)
¾ cup sweetener of choice (organic cane sugar, Sucanat, Splenda, or my fave: Swerve)
1 egg (flax egg, if vegan)
1 tsp vanilla
1 cup whole wheat flour (or flour of choice, if can't have wheat)
1 tsp baking soda
¼ tsp salt
1 cup dark chocolate chips (dairy-free, if vegan)
½ cup chopped pecans
⅛ cup unsalted sunflower seeds
⅛ cup unsalted pumpkin seeds
DIRECTIONS:
Preheat oven to 290⁰. Yes, you read that correctly (baking with avocado requires a lower heat with longer time, kind of like doing lower weights with higher reps)
Line cookie sheet with parchment paper.
Mix avocado and sweetener in mixer til smooth and creamy.
Add egg and vanilla; mix til combined.
In small bowl, mix together the flour, soda and salt; slowly add to wet ingredients and mix on medium til well combined.
Add chocolate chips, pecans and seeds til evenly mixed.
Place 1 Tbsp dough on cookie sheet, each dollop 1" apart from the next (if you like flatter cookies, press down with the back of a spoon)
Bake for 15-18 minutes; remove from oven and allow to cool.
NUTRITIONAL INFO:
Per cookie:
Calories: 64
Fat: 3.1 grams
Cholesterol: 8.81 mg
*A typical chocolate chip cookie has 241 calories, 13.7 grams of fat and 22 mg of cholesterol. What an amazing difference!