Roasted Parmesan Fennel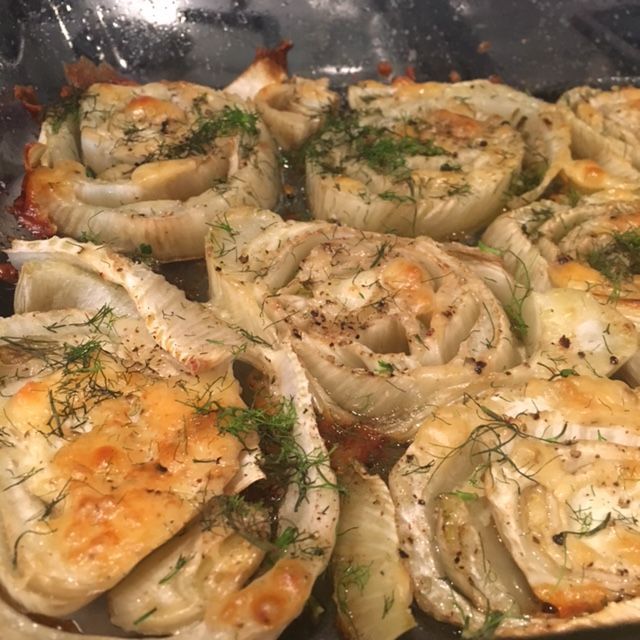 Roasted Parmesan Fennel
I had never tasted fennel until my journey with clean eating began in my mid-30's. Given that I love roast veggies, I decided to try it roasted first, and am I ever glad I did! This recipe is super easy and makes enough for 4 people.
If for some reason you DON'T love this recipe as I do, try this proven inflammation fighting vegetable braised alongside chicken, sliced raw into a slaw, chopped into soups or grilled on the BBQ!
INGREDIENTS:
2 large fennel bulbs, sliced into 4-8 wedges
1 tbsp extra virgin olive oil
⅓ cup grated parmesan cheese
Sea salt and fresh ground pepper to taste
DIRECTIONS:
Preheat oven to 400⁰F.
Add fennel wedges to a large pot of boiling water; cook for 5 minutes.
Drain fennel well and let cool a bit; toss in oil and sprinkle with salt & pepper.
Cook in preheated oven for 30 minutes (til fennel is tender); sprinkle with parmesan cheese and roast another 5 minutes.
Serve immediately.
Nutritional Information per 2/3 cup Serving:
Calories: 108
Fat: 6 grams
Carbs: 8 grams
Fibre: 4 grams
Sugar: .5 grams
Protein: 5 grams
Sodium: 258 mg
Cholesterol: 7 mg