Rainbow Raw Pad Thai Salad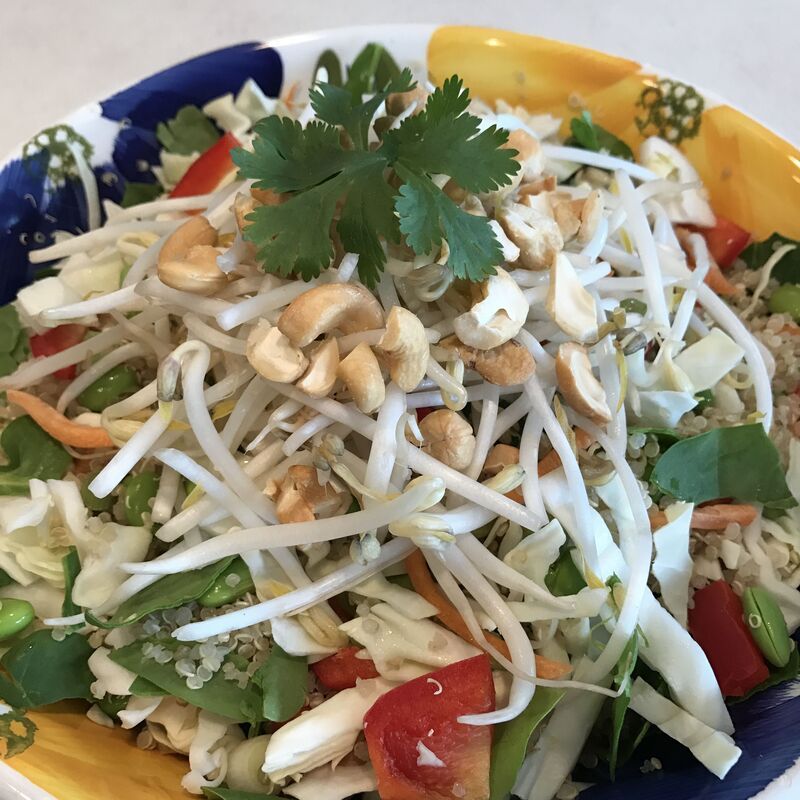 Rainbow Raw Pad Thai Salad
Vegetarian, Vegan
If you like crunch and colour and big bursts of flavour, this recipe is for you! Kamloops is a long ways from Thailand, but you'd never know it with the flavours of this Thai dish ringing out loud and proud. And it's not just the flavour that makes it so wonderful…
Did you know that hemp seeds have as much protein pound for pound as beef and lamb? And not only that, but they are a complete protein source, which means those little seeds provide all 9 essential amino acids. SO, when we want to have this salad as a meal, we simply double or triple the hemp seeds, and throw on a few extra edamame (also a great source of protein) and we're good to go!
If you don't have almond butter, you can substitute peanut butter; however, I wouldn't substitute powdered ginger for fresh ginger, as powdered just doesn't deliver the same WOW factor. All in all, a truly delectable dish I'm sure you'll go back to again and again!
INGREDIENTS:
1 medium zucchini, julienned or spiraled
2 large carrots, julienned
1 red pepper, thinly sliced
1 cup thinly sliced red cabbage
¾ cup frozen edamame, thawed
3 green onions, thinly sliced
1 tbsp hemp seeds
1 tsp sesame seeds
Dressing:
1 garlic clove
¼ cup raw almond butter
2 tbsp fresh lime juice
2 tbsp low-sodium soy sauce
2 tbsp water
1 tsp freshly grated ginger
2.5 tsp pure maple syrup
½ tbsp toasted sesame oil
DIRECTIONS:
Add all vegetable and seed ingredients to a large bowl.
In separate bowl, whisk together all dressing ingredients.
Toss salad ingredients with dressing; enjoy as is or refrigerate for ½ hour before enjoying.