Zucchini Crust Pizza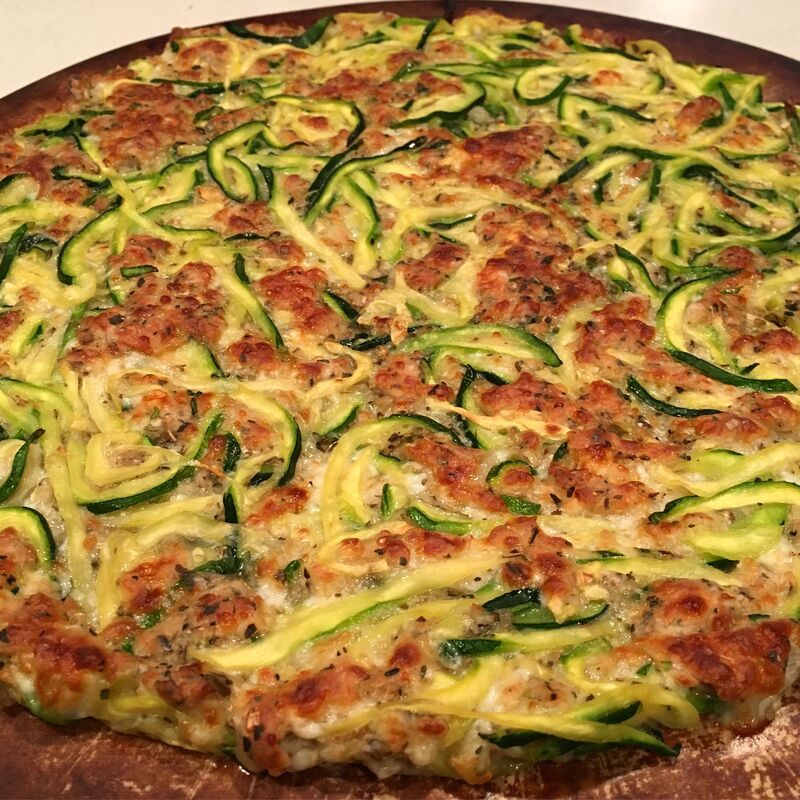 Zucchini Crust Breakfast Pizza
Vegetarian Gluten-free
I have to admit, when I first saw this recipe on A Saucy Kitchen's website, I was dubious. It sure looked good, but would the crust hold up to the pizza, and most importantly of all, would it taste good?
My fears were laid to rest when I placed the first piece in my mouth. It was so freaking good! The zucchini crust makes a great base for the unusual toppings, which had my tastebuds singing. If you love pizza but not all the fat and calories (and are a little experimental),give this recipe a try and let me know how you like it!
INGREDIENTS:
3 whole asparagus, ends trimmed
6 grape tomatoes
1 clove garlic
1 tsp each dried basil and oregano
4 cups shredded zucchini
3 eggs
2 Tbsp pizza or tomatoe sauce
1/3 cup gluten-free all-purpose flour
1 ½ tsp salt
1 tsp each (or less) salt and pepper
1 Tbsp extra-virgin olive oil
1-2 cups shredded low-fat or dairy-free mozzarella cheese
2 Tbsp dried parmesan
Fresh herbs, optional
DIRECTIONS:
Preheat oven to broil (550°F) with a pizza stone or cookie sheet heating up in it.
In a large bowl, toss the zucchini with 1 tsp coarse salt and set aside for 15 minutes. Then squeeze the excess moisture out by wrapping it up in a clean tea towel or piece of cheese cloth and wringing it out. Get rid of as much excess moisture as you can.
Once all of the liquid has been removed, put the zucchini back into the bowl and add the cheese, flour, garlic, oregano, basil, eggs, and salt. Mix everything together with your hands.
Place the zucchini mixture onto a piece of parchment paper at least 12" in diameter. Spread the zucchini crust to form a circle about 10" in diameter, 1/4" thick. Pinch the edges up so that it forms a crust.
Transfer the crust on the parchment paper onto the heated pizza stone in the oven. Bake for 8-10 minutes or until the crust starts to brown.
Meanwhile, mix the tomatoe halves and asparagus pieces in olive oil and salt & pepper.
When crust comes out of oven, turn it down to 400⁰. Then top the crust with sauce, arrange your veggies over that and sprinkle with parmesan cheese. Place back in the oven and cook for 8 more minutes.
If using fresh herbs, toss them on when it is done, and serve/eat this pizza right away. SO SO GOOD!