White Bean Chicken Chili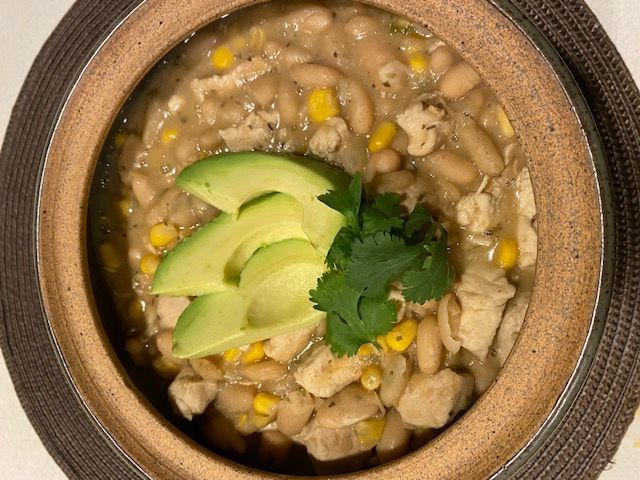 White Bean Chicken Chili
When the weather starts getting a little cooler as it is now here in Kamloops, nothing is better than a nice big bowl of comfort food. Of course I don't mean a big bowl of calorically dense, nutritionally poor pasta - I mean protein-rich White Bean Chicken Chili. Never had any other chili other than the tomato-based, ground beef kind? Well, you are in for a treat. This meal is absolutely delicious, especially when topped with your favourite hot sauce (Cholula for me) and cilantro (obviously optional, as I know half of you likely hate cilantro!)
INGREDIENTS:
6 cups chicken stock
6 cups cooked chicken, diced (I use breast)
3-4 cans of great northern beans
2 medium onions, chopped & divided
1 can corn
1-2 jalapeno peppers, seeded and minced
1 1/2 teaspoons oregano
2 teaspoons cumin
1/4 teaspoon cayenne pepper
2 garlic cloves, minced & divided
1 small can chilis or 1 cup salsa (can even do both)
1 tablespoon vegetable oil
2 tsp salt (more to taste)
1 tsp pepper (more to taste)
DIRECTIONS:
Simmer beans, half the onions, and half the garlic for 2 hours in the chicken stock, stirring often.
Add chicken and salsa or chilis.
Sauté jalepenos, spices, and the remaining onions and garlic in the oil and add to the pot. Add the corn. Simmer for one more hour.
Garnish with avocado, Monterey Jack Cheese (in moderation) and fresh chopped cilantro.