Quinoa Jambalaya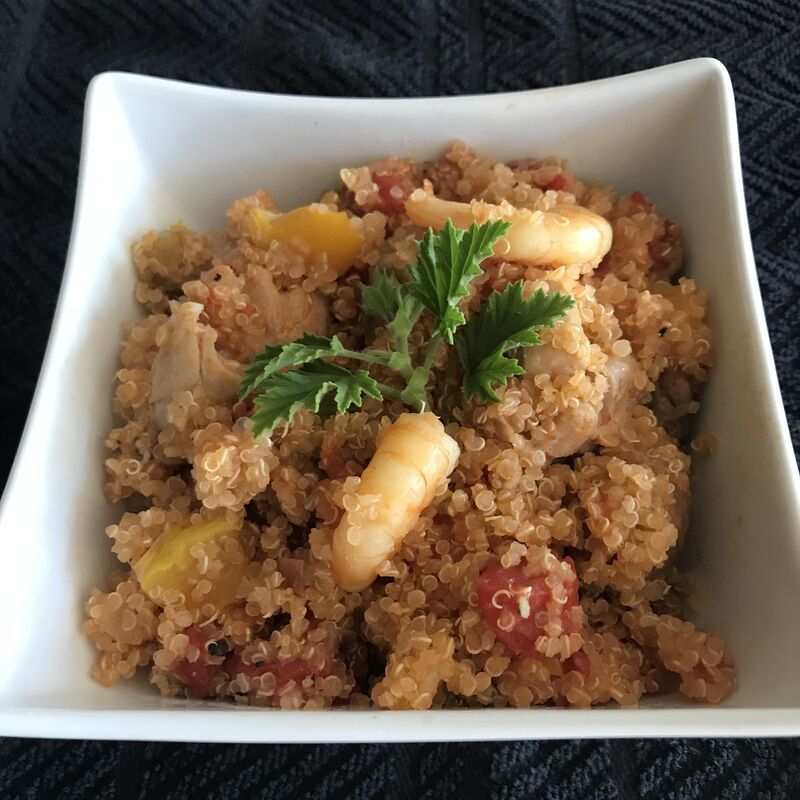 Quinoa Jambalaya
I love jambalaya, but don't love the calories and fat that are usually hiding inside. With this recipe, you're NOT getting ½ cup oil (1000 calories and 114 grams of fat) as well as a whack of white rice and saturated fat from pork sausage!
Yield: Serves 4 as a main dish
INGREDIENTS:
½ lb turkey sausage
½ lb chicken breast, cubed
1 lb medium shrimp, shelled and deveined
1 onion, diced
1 bell pepper, diced
3 stalks celery, diced
1 cup green onions, chopped
2 cloves garlic, minced
1 -16 oz can tomatoes
1 teaspoon pepper
¼ tsp cayenne pepper
2 cups quinoa
3 cups low sodium veggie or chicken stock
1 ½ Tbsp Worcestershire sauce
DIRECTIONS:
Preheat large roaster (or wok) to medium heat.
Add turkey sausage and chicken breast and cook until lightly browned.
Add all veggie items and stir fry until slightly tender.
Add shrimp, quinoa, stock and tomatoes; stir, cover and reduce heat.
Cook for 20 minutes or more, til desired doneness is achieved.
Serve with a nice big side salad and ENJOY!