Grilled Shrimp & Mango Couscous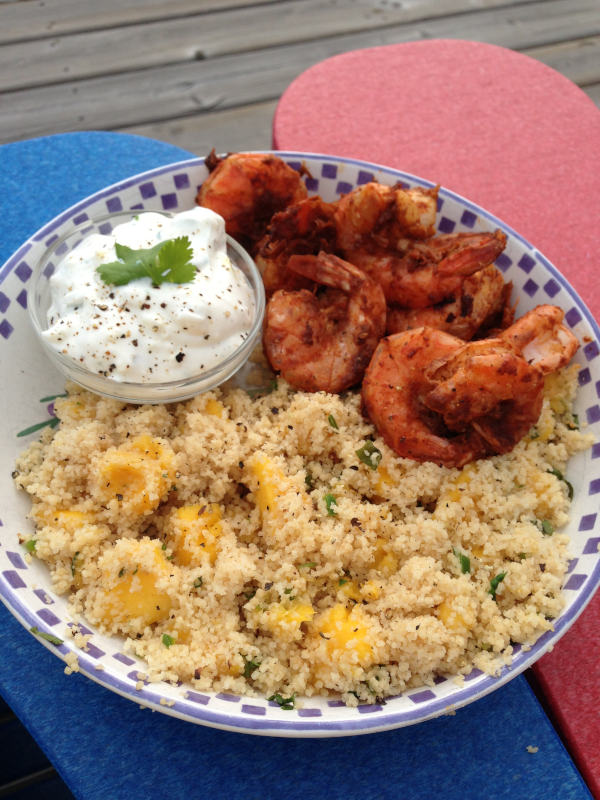 Grilled Shrimp & Mango Couscous
Our Kamloops summers are hot and sunny, and when the weather is calling me outdoors, I sure don't want to spend ages in the kitchen. However, I DO still want delicious and nutritious food, and I bet you do too. Can we have both? The answer is a resounding YES! If you have the ingredients on hand, this recipe is a cinch to whip up (20 mins) and literally makes my mouth SING! If you're not a fan of heat (and I'm not talking temperature here),you may want to cut the amount of red curry paste in half and omit the jalepeño altogether. I've got to say, though, there is something absolutely magical about the combination of spicy shrimp with the creaminess of the yogurt, the sweetness of the mango and the tartness of the lime! Oh, someone bring me a plate right now!
INGREDIENTS:
1 cup couscous (whole wheat, if possible)
1 mango, peeled and diced
1 tsp. minced jalepeño
1 tbsp + 1 tsp freshly squeezed lime juice
½ cup chopped fresh cilantro
1-2 tbsp red curry paste
2 tsp olive oil
1 tbsp + 1 tsp minced garlic
¾ lb. tail-on shrimp, shelled and cleaned
1 tsp fresh grated ginger
1 cup plain non-fat yogurt
Sea salt and fresh ground black pepper
DIRECTIONS:
Cook couscous as per package directions. Once cooked and slightly cooled, combine with mango pieces, jalepeño, 1 tsp lime juice and half the cilantro. Season with sea salt and freshly ground pepper; set aside.
In a large bowl, whisk together red curry paste, oil, 1 tbsp garlic and remaining lime juice. Add shrimp; toss to coat.
Mix yogurt, ginger, garlic and remaining cilantro together; season with fresh ground pepper.
Heat grill/BBQ to medium-high. Oil or spray BBQ grates or mat and grill shrimp until JUST cooked (approx. 1.5 mins/side).
Plate up couscous and shrimp with yogurt sauce on the side. Garnish with fresh lime wedges, if you like that nice fresh pop of flavour as I do.