Sweet Potato Scramble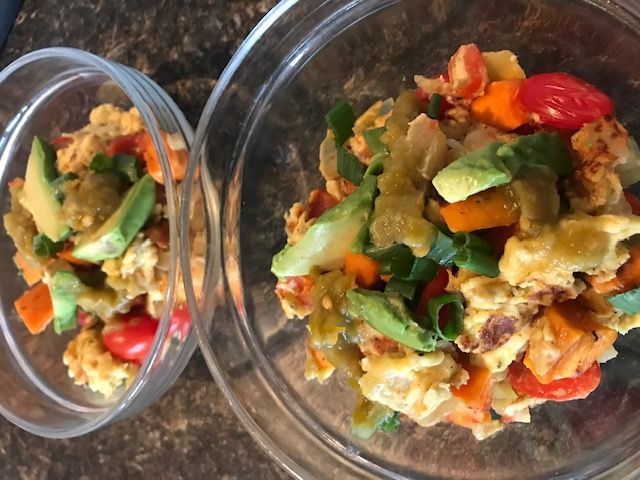 Sweet Potato Scramble
One of the most commonly asked questions I get regarding food and recipes is regarding what constitutes a healthy breakfast and if it is actually all that important. The answer is a resounding YES! Considering the breakfast meal actually "breaks" our nighttime fast, it is important to choose foods that not only provide us with energy we need to start our day (from slow-releasing complex carbs) byt also contain important nutrients such as calcium, iron, B vitamins, protein and fibre. This recipe, which serves 2, tastes delicious (better than it looks really) so it's a win-win!
INGREDIENTS:
1 large sweet potato, cut into cubes (approx. 2 cups)
2 tsp. extra-virgin olive oil, divided
1 tsp salt, divided
1/2 small white onion, minced
1 coloured pepper, diced
4 large eggs
4 egg wites
1 tsp garlic powder
1/2 tsp fresh ground pepper
1/2 cup cherry or grape tomatoes, halved
1/2 avocado, sliced or diced
1 scallion (green onion),sliced
1/2 tsp paprika
Hot sauce (optional)
DIRECTIONS:
Preheat oven to 400°F and line a baking pan with parchment paper.
Toss the sweet potato cubes with 1 tsp. oil. Spread cubes evenly on pan and sprinkle with 1/2 tsp salt.
Roast sweet potatoes for 15 minutes; stir, then roast for 10 more minutes. Remove from oven and set aside.
Add 1 tsp. olive oil to non-stick skillet and heat over medium heat. When hot, add onion and bell pepper and sauté, stirring, until softened.
Meanwhile, beat eggs together with egg whites. Add to the veggies and cook for a few minutes, stirring occasionally. Stir in all seasonings except paprika.
Stir in the tomatoes to heat through and to soften the skins. Add the cooked sweet potatoes and stir to combine.
Divide mixture between 2 bowls and top with paprika, avocado and scallions. Serve immediately, with or without hot sauce. Enjoy!