Blueberry Overnight Oats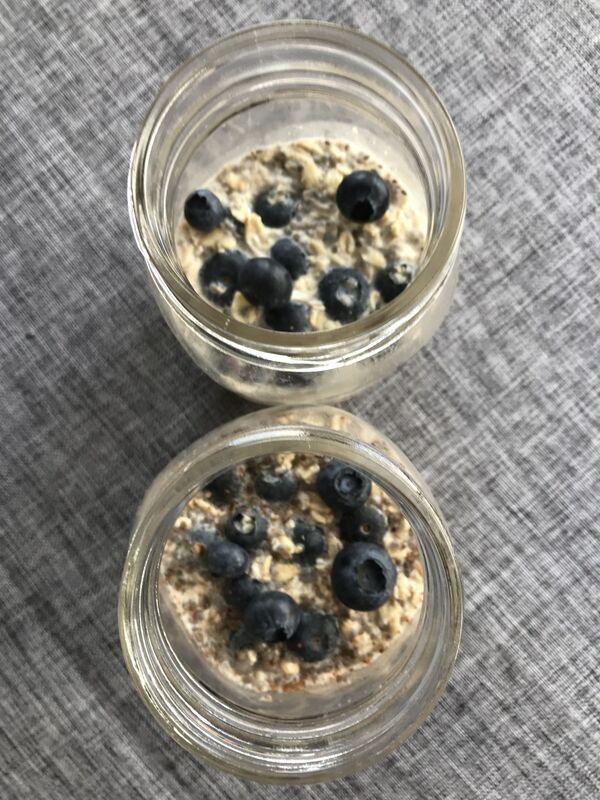 Blueberry Overnight Oats
This is my go-to breakfast, for a few reasons:
Because I prepare it ahead-of-time, there is no scramble in the morning.
Because it's so easy to make, I do up 5 individual mason jars at once for my Monday-Friday breakfasts
Because of the complex carbs, I have sustainable fuel for my morning workout.
Because this recipe is fully customizable (use raspberries or apples...add maple or cinnamon…add a few tbsp non-fat Greek yogurt…)
Because it's delicious!
INGREDIENTS:
½ cup rolled oats (I use gluten-free as my body tolerates it better)
2/3 cup almond milk (I use unsweetened, but you could use sweetened)
1 Tbsp chia seeds
1 Tbsp maple syrup
¼ cup fresh blueberries
Few shreds of fresh lemon peel (optional, but I just love how it brightens it up)
DIRECTIONS:
Add all ingredients to a mason jar and give it a stir or shake to combine
Cover tightly and chill.
Serve with extra blueberries if desired, or my favourite option: a few toasted pecans. Oh my!
NUTRITION:
Calories: 328
Carbs: 53 grams
Protein: 11 grams
Sat Fat: 1 gram
Cholesterol: 2 mg
Sodium: 234 mg
Potassium: 283 mg
Fibre: 10 grams
Sugar: 17 grams
Vitamin C: 4 mg
Calcium: 352 mg
Iron: 3 mg